Windshield Repair in Stouffville - Trust MRM Auto Glass
For many, an automobile windshield is simply part of the vehicle – we just take it for granted. But over the years, the windshield has become quite integral, particularly with respect to occupant safety. Today, most automobile windshields are made of "safety" glass, and are specially designed to protect from serious injury in the even of an accident. As such, care and maintenance of the windshield is essential, and any damage to the glass should be attended to with immediacy.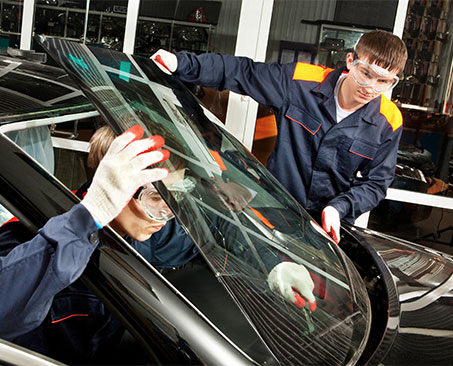 For windshield repair in Stouffville, local residents can count on MRM Auto Glass for quality repair and/or replacement, along with a quality approach to service. Beyond the typical need for windshield repair, MRM also offers customers convenient 24/7 mobile repair. Our in-house windshield professionals have the experience and expertise to service all makes and models.
With MRM, there's no more need to neglect even the smallest of windshield chips and cracks
When it comes to windshield repair in Stouffville, MRM installs the best possible replacement glass (with the highest safety standard). Where possible, our people use OEM glass (Original Equipment Manufacturer) - products from PPG, Carlite, and Pilkington. For customers who want to choose their own, MRM installers can also offer replacement glass from non-OEM suppliers (in other words "after market" glass). Repair or replacement, high quality is assured on all work.
For local customers looking for windshield repair in Stouffville, MRM Auto Glass can do it all. We service customers far and wide - from Richmond Hill, to Thornhill, to Vaughan, to Aurora. And in most cases, we will encourage our customers to make repairs immediately, without delay. The fact is, even a small windshield crack or chip can quickly turn into serious damage. With every install, we offer a Lifetime Warranty that includes manufacturer-related defects and issues.
MRM Auto Glass is the one-stop shop for windshield repair in Stouffville. Best of all, windshield service goes beyond the industry norm – it's a complete and comprehensive service approach.
What MRM does for you:
we deal with the insurance company
we pay up to 100% of your deductible amount
we offer a manufacturer's warranty
we repair all types of window cracks
we offer competitive industry prices
we repair/replace all window types
For reliable windshield repair in Stouffville, it's MRM Auto Glass
MRM makes every effort to repair windshield glass before replacing. However, when the scope of damage makes replacement necessary, our people do it right, with a quality glass product, and an installation warranty. We have a very convenient online Quotation Form for immediate pricing - just fill out the Quotation Form and a qualified staff member will be in touch with a quote.
At MRM, customers get the most cost-effective windshield repair or replacement. We assess the vehicle, the extent of damage, and the window type, in order to recommend a fix that is suitable. To find out more about windshield service and other auto glass services, call the experts at MRM directly at 905.868.9399, or visit the company's website online at www.mrmautoglass.ca.