Car Glass Repair in Richmond Hill
Whether it's a car accident, stone chip, or vandalism, there's no need to panic with glass repair. At MRM Auto Glass, it can all be repaired or replaced, and without an outrageous cost. For car glass repair in Richmond Hill, local customers count on the experts at MRM for high quality repairs.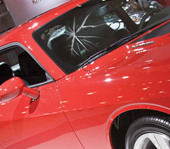 With small window cracks and incidental stone chips, it's better not to postpone a window repair. Customers shopping for car glass repair in Richmond Hill can rely on MRM for expert service on a wide range of makes and models. If needed, a 24/7 mobile service is available (no extra charge).
MRM Auto Glass offers a Lifetime Warranty on every glass repair or installation – and that includes extensive coverage for manufacturer-related issues, as well as other repair and replacement issues. With skilled in-house repair specialists, MRM is well recognized for car glass repair in Richmond Hill.
What's most important with window glass repair is to take immediate action – the small cracks and chips will only get bigger. That's why the MRM team encourages customers to take action as soon as possible. And when a vehicle requires a completely new windshield, that's also doable.
Comprehensive car glass repair in Richmond Hill
MRM Auto Glass is there for you. The service approach is comprehensive and often goes beyond the typical repair or replacement of car window glass. At MRM, the technical team ensures installations that are professional, and without any added stress - results are guaranteed.
we will directly communicate with insurance companies
we will pay most or all of the deductible amount
we offer a lifetime installation warranty
we make every effort to effectively repair
we try to offer the most competitive prices
we can repair/replace any vehicle window
In some cases, window glass may be beyond effective repair. Here, the only option is complete replacement. At MRM Auto Glass, windshield replacement comprises laminated safety glass that is critical to vehicle safety. Wherever possible, OEM window glass is used (Original Equipment Manufacturer) from suppliers like PPG and Pilkington. However, customers also have the option of choosing window glass that is sourced from non-OEM manufacturers (aftermarket glass).
Although OEM and non-OEM window glass both comply with federal safety standards, there are benefits to installing OEM products. Original manufacturers have the tooling and fabrication to provide a perfect fit, ensuring that there are no noise or leakage problems. Whatever the product option chosen, the team at MRM always installs the highest quality window glass, while ensuring the highest quality installation. Customers in Vaughan Region can rely on the team at MRM.
Car glass replacement or car glass repair in Richmond Hill
For every type of glass replacement or glass repair (including emergencies) count on MRM Auto Glass for fast and reliable service. Call directly at 905.868.9399 or visit the company website at www.mrmautoglass.ca. MRM also offers a convenient online Quotation Form where customers can complete an estimate request, after which a qualified installer will be in contact directly.