Auto Glass Replacement in Richmond Hill
Driving with a cracked or broken windshield is simply risky. Besides the fact that a serious crack can totally obscure the driving view, there are also other safety issues. Today, windshields are designed to provide safety for occupants, so when a windshield has been compromised, it should be repaired immediately. For auto glass r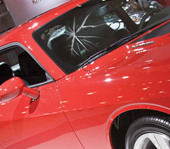 eplacement in Richmond Hill, local vehicle owners rely on MRM Auto Glass for professional repair and/or replacement – and with 24/7 mobile service.
At MRM, the technical staff has expertise servicing a wide range of domestic and foreign vehicles. And with immediate repair service, there's no reason to postpone the work – after all, a small crack can turn into a bigger problem very quickly. As the specialists in auto glass replacement in Richmond Hill, MRM always encourages clients to undertake window repairs (or replacement) immediately. The fact is, driving around with a cracked windshield could actually be risky.
For auto glass replacement in Richmond Hill, rely on MRM Auto Glass
MRM Auto Glass provides repair and replacement for cracked windshields, chipped windshields, or shattered windshields. MRM offers customers a comprehensive Lifetime Warranty with added coverage that includes manufacturer defects and a host of other replacement-related problems.
When a vehicle requires a completely new windshield, MRM can do it quickly and professionally – without any added stress. More importantly, MRM service goes beyond the technical repair or replacement. It's a comprehensive service package from first contact to finished installation.
we work directly with the insurance company
we cover up to 100% of your deductible insured amount
we offer a comprehensive Lifetime Warranty
we will repair/restore whenever its possible
we offer vehicle owners competitive pricing
we can repair or replace any vehicle window
A professional approach to auto glass replacement in Richmond Hill
Whenever possible, MRM Auto Glass makes an effort to repair or restore window glass. Our in house crews deal with everything from cracked glass, to chipped glass, to scratched glass. And we repair every type of window glass, regardless of the damage, and regardless of the make/model.
When the scope of glass damage requires a complete replacement, the team at MRM will provide high quality product, along with a high quality installation. Whether it's an emergency or not, local customers can rely on MRM Auto Glass for quality auto glass replacement in Richmond Hill.
When it comes to installation, MRM technicians will recommend the most cost-effective options for repair or replacement. Recommendations are made based on the origin and scope of damage. The important thing is to make repairs as soon as possible, and not to ignore small chips/cracks.
For easy access, MRM Auto Glass offers local customers an Online Quotation Form. This is a very easy way to get an accurate price estimate, based on vehicle make, scope of damage, and window location. Customers throughout York Region can rest assured of immediate attention from MRM.
To find out more, customers in Richmond Hill can contact the MRM team directly at 905-868-9399 or fill in this form to get a quote.
Should I replace my windshield?
When a windshield gets cracked or chipped, it should be replaced immediately for safety reasons. Damaged auto glass is a common problem but nothing that cannot be solved. If the crack is on the side of the windshield that is directly in the driver's line of sight, it is a signal that it should be replaced.
Moreover, if there are more than three chips or cracks on the glass that may affect the driver's sight, then the glass should be removed and replaced with a new one. The reason for doing so is the safety of the driver and the passengers. So, in the case of a damaged windshield, the advice is to replace it immediately.
Can I drive after a windshield replacement?
The windshield repair can take up to 30 minutes and even more time if the damage is severe. The time needed for the auto glass replacement is usually around one hour. Technicians use the best materials, and they will provide advice on when it is safe to drive the vehicle.
Most of the technicians use the industry's top of the line adhesive with one-hour drive-away time for windshield installations. The adhesive is used to hold the glass in place and create a secure, waterproof seal around it. When one hour passes, the vehicle is safe to drive. The windshield is a part of the vehicle that is treated as a spare part. Since the installation of new auto glass is done for safety reasons, it is perfectly safe to drive after the replacement is performed.
What shouldn't I do after an autoglass replacement?
Here are some steps that should be followed after the windshield installation for it to remain in good condition. It should last as long as possible if some precautions are followed during the first two days.
First of all, the remaining shards of glass should be cleared. The technicians should do this, but it is better to be safe. The windows should be left open at least an inch for one day since air pressure can cause damage to the seal around the auto glass while it dries.
Both the interior and the exterior of the vehicle should be clear, and the dashboard should be freed from any clutter. Nothing should adhere to the seal or push up against it. The retention tape shouldn't be removed during the first two days because the removal can damage the adhesive.
New moldings need approximately two days to set up completely, so it is advised not to use high-pressure car washes. Also, the vehicle shouldn't be washed in the automatic car washes.
The best is to hand wash it if needed. The doors should be closed gently. Moreover, the vehicle shouldn't be driven on the roads with a lot of potholes and bumps as this can put unnecessary stress on the adhesive.
Is autoglass replacement covered by insurance?
The first step is to check with the insurance company or agent. Depending on the type of insurance, the windshield replacement should be covered. Comprehensive policy covers the costs of the windshield repair and in some cases, even the auto glass installation. But it is safest to check the details of insurance in the first place.