Why Address Auto Glass After Fender Benders in Richmond Hill
Posted in Auto Glass Repair, on May 23, 2023
---
Even after a minor fender bender, collisions can be scary and may threaten the structural integrity of your vehicle. While it's understandable for car owners to focus on visible damage to the vehicle, assessing the condition of your auto glass in Richmond Hill and scheduling prompt windshield repair is critical. Cracks, chips, or even a slight haze can have severe implications for your safety on the road. Even though your auto glass looks usable after an accident, contact a certified auto glass company in Richmond Hill for inspection to ensure it's safe to drive. Trusted windshield experts like MRM Auto Glass can restore your vehicle's glass to its pre-accident glory. Meanwhile, read on to know why you should address auto glass issues after a fender bender.
Cracks in the Windshield or Window Glass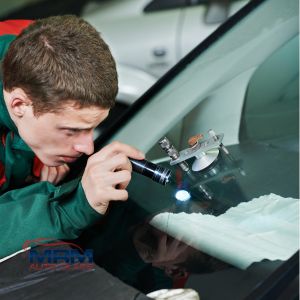 Cracks in the auto glass are one of the most common issues arising after a collision. Even a harmless-looking crack can quickly spread and compromise the structural integrity of the windshield or windows. After all, a windshield is not just about aesthetics–functionality and safety are indispensable. Cracks can also obstruct the driver's visibility and increase the risk of accidents. Don't endanger yourself or your loved ones–always schedule an auto glass inspection after your collision. MRM Auto Glass understands the urgency of accidental situations and offers prompt inspections, windshield repairs, and auto glass replacements in Richmond Hill for your safety.
White Haze Around Auto Glass Edges
The appearance of a white haze around the edges of vehicle glass is another often overlooked consequence of a fender bender. The separation of the auto glass from the vehicle frame due to collision impact is responsible for this haziness. Apart from spoiling your vehicle's looks, it can allow moisture, rainwater, dust, and debris can seep in through the gaps. Thankfully, the pros at MRM Auto Glass specialize in resealing auto glass and windshield repairs, effectively eliminating the white haze.
Unusual Noises
Unusual or rattling noises from the auto glass area after a collision could indicate hidden damage to the windshield glass or its mounting components. Ignoring these sounds may prove costly & dangerous. Glass detachment, cracks, malfunctioning window regulators, or other damage may occur over time. Timely inspection and windshield repairs will ensure safety and a quiet, comfortable driving experience.
Final Thoughts
Addressing windshield and other issues promptly after a fender bender is vital for your safety, car aesthetics, and long-term functionality. Get your vehicle glass inspected by a qualified auto glass technician to determine the need for repairs or replacement. Keep in mind that even though the technician deems your vehicle glass safe, wear and tear in future can necessitate replacement in future.
MRM Auto Glass For Windshield Repairs & Replacements You Trust
MRM Auto Glass is a reliable partner for all your windshield repair, replacement, and auto glass needs in Richmond Hill. Choosing MRM Auto Glass comes with a commitment to exceptional customer service, professional expertise, high-quality materials, and transparent prices. Recognizing that a fender bender can happen anywhere, MRM Auto Glass offers convenient mobile services for your convenience. Entrust your windshield repairs to MRM Auto Glass and enjoy a safe and pleasant driving experience.