What To Do When You Shatter Your Auto Glass
Posted in Auto Glass Repair, on May 16, 2023
---
Imagine enjoying a pleasant drive, only to have a rock suddenly fly out of nowhere and shatter your auto glass or an unfortunate collision totalling your windshield. It can be a shocking situation, but don't worry! MRM Auto Glass experts are here to guide you through critical steps when faced with shattered auto glass. Whether it's a cracked windshield or a busted side window, knowing what to do next can make all the difference. Trust MRM Auto Glass professionals for prompt windshield repair and reliable auto glass repair in Vaughan. Keep reading to learn what to do when your auto glass shatters.
Pull Over & Inspect Damage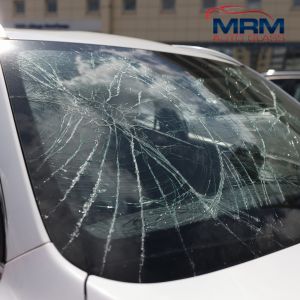 The first thing to do with shattered auto glass is to safely pull over to the side of the road. Gradually reduce the speed, and take care not to brake suddenly. Once you are safely parked, examine and assess the extent of the damage. While minor damage can be addressed with expert windshield repair, a complete breakage will require auto glass replacement. Thankfully, modern windshield glass does not shatter with sharp edges. They crumble into small, pebble-like glass pieces that are safer to handle. However, one should avoid touching the glass pieces or try removing the windshield.
Call An Auto Glass Repair Service Near You
Once you have ensured your safety, contact the legal authorities and insurance agency if you were involved in a collision. Next, call a reputable company for auto glass repair in Vaughan as soon as possible. Professional and reliable companies like MRM Auto Glass can provide prompt assistance and have trained experts to handle the situation professionally.
Call For Mobile Repair
Mobile repair is one of the significant conveniences offered by reputable auto glass repair services in Vaughan. If you're stuck with damaged auto glass on the road, MRM Auto Glass will come to your preferred location for on-site mobile repairs. Mobile repair saves you hassle, effort, and time by sending trained technicians equipped with the necessary tools and materials directly to you. Mobile windshield repair service is particularly beneficial for extensive damage where your vehicle is unsafe to drive.
Choose Your Auto Glass
When replacing your shattered auto glass, you must choose between Original Equipment Manufacturer (OEM) glass or aftermarket glass. OEM glass is produced by the same manufacturer that made the original glass for your vehicle. It ensures a perfect fit and comparable quality to the original glass. Aftermarket glass is produced by third-party manufacturers and is more cost-effective, but the quality and fit can vary. MRM Auto Glass can guide you in making the correct choice based on your needs and budget.
Calibrate Advanced Driver Assistance Systems (ADAS)
Modern automobiles often come equipped with sophisticated Advanced Driver Assistance Systems (ADAS) that rely on sensors and cameras mounted on the windshield. Calibrating these systems after a windshield replacement is crucial to ensure they function accurately. Reputed windshield repair and replacement services like MRM Auto Glass have the expertise to perform ADAS calibration and restore the safety features of your vehicle.
Dealing with shattered auto glass can be a frustrating and unsettling experience, but following these essential steps can help you navigate the situation comfortably. Remember to prioritize your safety and contact a reliable provider for auto glass repair in Vaughan, like MRM Auto Glass. Our skilled technicians can restore your vehicle's glass and aesthetics promptly. Don't let a shattered windshield or window compromise your safety and convenience.
Contact MRM Auto Glass for expert windshield repair and top-notch auto glass services today!