What To Do When Auto Glass is Struck By Truck Debris?
Posted in Windshield Repair, on October 13, 2021
---
There are so many variables to be aware of when you're on the road: traffic, speeding, pedestrians, and potential windshield damage. Your vehicle is vulnerable to damage from external factors, such as extreme weather, rocks, to rogue balls. There are different severities to windshield damage and as a result varying levels of urgency for window crack repair. But one of the most shocking is being struck by truck debris. Not only can this be extremely frightening, it can also be incredibly dangerous, warranting an immediate response. If your windshield is damaged by truck debris, contact MRM for a fast, on-site auto glass repair in the GTA.
If your vehicle requires windshield crack repair or replacement from being stuck by truck debris, here's what you should do next.
Avoid Trucks on The Road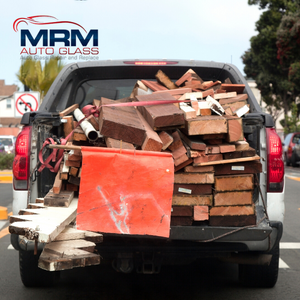 Debris from trucks can be various things: rocks, construction equipment, lumber, and even dirt. No matter how small or large these projectiles might be, they have the potential to wreak havoc to your windshield. You should always be careful when you're driving behind a truck, especially while behind a construction truck.
Trucks in construction zones might be carrying rocks, waste, or even heavy machinery that could fall off and hit your windshield at any time. Rather than speed up and try to pass the truck, the safest thing to do is to maintain a safe distance behind them and proceed with caution; this way, you'll avoid being hit by any debris.
Don't Keep Driving
However, sometimes you can do everything right, auto glass repair is just inevitable. If your windshield does get struck by truck debris, chances are the damage isn't pretty -- nor is it safe to drive with. To make sure you and everyone around you are safe, you should stay put. A damaged windshield can easily obstruct your line of view while driving, and you might even be fined for it. No matter the size of the damage, the wisest and safest thing to do is to contact MRM Auto Glass for window crack repair as soon as possible -- and since it's well-advised to stay put, our team can come to you with our mobile service.
Keep Note of What Happened
Getting your windshield damaged by truck debris is a serious matter, and you aren't at fault if it happens. When it does occur, jot down detailed information about the incident -- the truck, what it was carrying, where you were, and the license plate if it's possible. Keeping note of as much information as possible will help you file your police report and insurance claim. When it comes to filing your insurance claim, the one person you should call before contacting MRM is your insurance provider; you should always check to see if a windshield replacement or auto glass repair is covered.
Act Fast and Call MRM for Auto Glass Repair near the GTA
The more time you wait to get your windshield crack repaired, the greater the damage -- and the cost -- will be. When it comes to being struck by truck debris, contact MRM as soon as possible for our mobile service and efficient auto glass repair and replacement.
Contact us today to learn more about windhield repair and replacement services.