What to Do If Your Windshield is Struck By Road Debris
Posted in Windshield Repair, on September 02, 2021
---
Your windshield is one of the most significant safety barriers of your car. It's the only thing separating you from bugs, gravel, and all kinds of road debris flying around. We've all had the unfortunate experience of debris hitting our windshield, sometimes harmless, but other times, resulting in the need for windshield chip repair. There are so many things that can cause a chip in your windshield, like a rock propelled from a car nearby or tree branches being tossed around from high winds. As soon as that chip in your windshield forms, then the structural integrity of your windshield is compromised. Don't worry, though; at MRM, our team of professionals can get you and your car back on the road efficiently and safely with our windshield chip repair services across the GTA.
Learn how you can react to a chip in your windshield safely.
What Causes Windshield Damage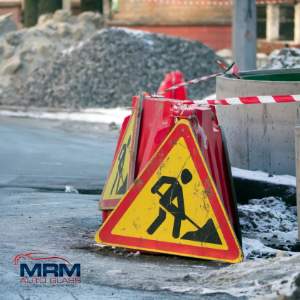 There are many causes of windshield damage in the city, some of them are natural and can't be controlled, others can be as surprising as a flyball from a nearby park. However the most common reason for a chip in your windshield is related to what is happening on the roads themselves.
Construction: In Newmarket and the surrounding areas, warm Summer weather generally means that there's going to be a plethora of road repairs. Even though summer is coming to an end, construction on the road isn't. Construction zones are often a mess full of debris spread across the road, usually more than just stray rocks. It doesn't matter if you're driving through a construction zone or following equipment trucks; debris striking your windshield can happen without notice leading to a chip in your windshield.
Unpaved Roads: Gravel roads often have slower speed limits for a reason — it's easy for loose gravel to be flung onto your windshield and cause damage. Stones, gravel, and rocks can easily be kicked up from a car in front of you or one passing by and lead to some serious damage to your windshield. More often than not, a chip in your windshield can lead to a significant crack, making your windshield even more vulnerable and unsafe to drive. To guarantee your safety and the integrity of your car, get windshield chip repair as soon as possible.
Avoiding Damage in the Future
Often, the causes of windshield damage are out of your control. From rocks being kicked up onto your windshield to debris being propelled through the air, some situations are simply unavoidable. However, make your vehicle and yourself as safe as possible from debris by being diligent, aware of your surroundings, and cautious on the road. If you're driving in a construction zone or on a gravel road, keep your distance from the car in front of you and reduce your speed.
Safely Responding to a Damaged Windshield
If road debris strikes and you find yourself with a chip in your windshield, it's critical to have it repaired as soon as possible. Chips can quickly transform into cracks, which has the potential to significantly reduce your visibility while driving. If the damage has caused an obstructed view, don't drive. At MRM Auto Glass, your safety is our priority, and if you have a damaged windshield, our team can come to you with our mobile service.
Prevention is the best solution. If you notice a chip in your windshield, no matter how small, get it repaired immediately and keep up the quality of your windshield.
Contact MRM today for all your auto glass repair needs.