What Damage Can Wipers Do to Your Windshield
Posted in Windshield Repair, on December 06, 2021
---
Most windshield damage is usually caused by pebbles, dust, and other road debris. But did you know that faulty wipers can also damage your windshield? Wiper blades are designed to keep the windscreen clean for an unhindered view while driving. Unfortunately, damaged wiper blades can cause tiny scratches, chips, or cracks in your windshield that may require auto glass repair in Newmarket. If the damage is significant, it may necessitate replacement. Here's how faulty or malfunctioning wiper blades can damage your windshield:
What Causes Wiper Damage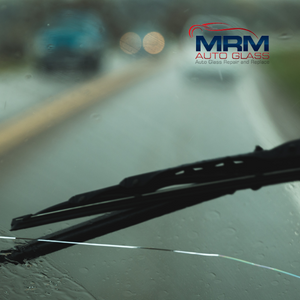 Like other automobile parts, wipers can wear out with use and the effect of the elements. In fact, even premium quality wipers can be damaged with use. The most common wiper damage is the deterioration of the rubber edging of the wiper that causes the metal underneath to be exposed. Also, wiper arms made of metal can weaken and rust over time. Using the wiper blades with debris or ice on the windshield glass can damage the blades and your windshield. Streaks on the glass or a screeching sound while using the wipers are a tell-tale sign of wiper damage that needs windshield replacement or windshield repair in Newmarket.
Effect of Damaged Wipers on Your Windshield
Worn or damaged wipers can be dangerous as they impact driving visibility. However, they can also end up damaging your windshield. When the metal of the wiper glass is exposed due to damaged rubber edging, activating the wipers can cause scratches on your windshield. Without the rubber cushioning, the metal portion scrapes across the auto glass, causing scratches. When the wiper arms are damaged, the blades cannot move properly or lift off without touching the window. This can cause roadside debris to collect on the wiper blades and windshield, further damaging your auto glass. If ignored, a broken wiper blade can worsen the cracks and scratches on the windshield to the point where windshield replacement or auto glass repair in Newmarket is the only option.
Why Fixing Damaged Wipers & Windshield is Essential
Damaged wiper blades can cause:
Visibility problems due to scratches, chips or cracks.
Distractions and impaired visibility while driving in rain/snow due to streaking, uneven or improper glass cleaning.
Scratches and chips can reflect sunlight or headlights from oncoming cars to distort vision.
Further windshield damage from debris, dust, snow, and ice trapped in the wiper blades.
Remember, delaying repairs will only make the problem worse! If you need emergency windshield repair, MRM Auto Glass can help repair or replace your auto glass in a timely manner.
Professional Auto Glass Repair from MRM Auto Glass
Undoubtedly, damaged wipers should be changed with new ones to prevent glass damage. If you suspect wiper damage, it is best to get them replaced at the earliest. If the windshield glass has been scratched or cracked due to the wipers, an MRM Auto Glass technician can inspect it to determine the extent of the damage. Superficial chips or cracks may be restored, but windshield repair should only be handled by experienced professionals. A bad repair job can cause distortion and worsen visibility issues. However, extensive damage cannot be restored, and you may require windshield replacement with a sturdy original factory or OEM glass. Whether you need windshield repair in Newmarket or replacement, the certified pros at MRM Auto Glass can get you back on the road in no time!
Call us to schedule an in-shop or mobile service for top-notch windshield repair and replacement!