The Safe Response to A Windshield Crack
Posted in Windshield Repair, on July 07, 2021
---
Imagine this: You're on your way out for the day, everything seems great so far -- until you quickly realize that you need windshield chip repair. A crack or chip in the windshield isn't an uncommon problem, but it is a perplexing one. Despite having a busy day, the crack running through your windshield needs to be fixed as soon as possible.
What's the safest thing to do? In short, you need to be cautious, diligent, and act fast. You can get back on the road again quickly with professional repair from MRM Auto Glass to fix any crack or chip in your windshield.
Here are a few things to keep in mind on how to stay safe with a cracked windshield.
Don't Drive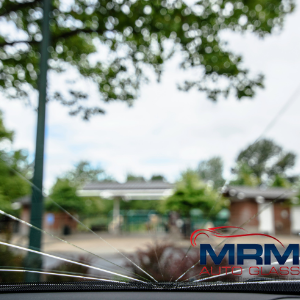 Although the level of danger depends on how significant the damage is to your windshield, do not drive, especially if a crank in your windshield exceeds 6 inches. Either way it's better to be safe than sorry. With added pressure, stress, wind the damage will only continue. A small crack can easily develop a large crack running across your windshield, putting you and other drivers at risk over time.
Before you get back in the car, it's best to deal with your windshield chip repair sooner rather than later. When you call MRM Auto Glass repair, our technicians can come to you within 30 minutes, so you won't have to throw your whole day off track.
Get It Fixed Immediately
Cracks in the windshield compromise a vehicle's structural integrity, and the bigger the crack, the bigger the risk. A windshield is a barrier against all the elements, allowing passengers to have a safe and comfortable drive. Once that windshield becomes vulnerable, it becomes more difficult to keep intact. Rather than asking how safe it is to drive with a cracked windshield, ask yourself how immediate the hazards are. If you're uncertain, it's always best to repair a crack in your windshield before putting yourself or passengers at risk of being injured.
Be Aware of Fines
Driving with a chip in your windshield is unsafe, so yes, there is a possibility of being fined for it in Ontario. If you don't get immediate windshield chip repair, the chip or crack in your windshield minimizes the safety capability of your car. Even more so, once the damage spreads, it can impair the drivers' vision, leading to distracted driving. Be sure to get your windshield fixed as soon as you can because you can be fined for it, even during a routine police stop. Fixing your windshield doesn't take much time to repair and usually doesn't break the bank when you choose MRM Auto Glass. The cost of a fine for driving with a damaged windshield will significantly outweigh the cost of fixing it.
Don't drive with a chip or crack in your windshield, and call a professional auto glass repair company in your area. Find a company that puts your safety first and comes to you. Here at MRM Auto Glass Repair, you can depend on us to come to you with fast, reliable and professional windshield repair services.
Contact MRM today to get started on your affordable and fast windshield repair so you can get on with your day.