Signs You Need A Windshield Repair
Posted in Windshield Repair, on December 22, 2020
---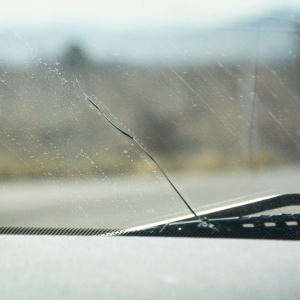 Although many drivers think a windshield repair job is obvious, some people are unaware when their windshield needs to be replaced. Depending on the type of damage and its location on your windshield, you could continue to drive for days or weeks without noticing a chip or crack. Unfortunately, this can be quite dangerous, as any damage to your windshield compromises the safety of your vehicle. Therefore, it is important to seek out windshield chip repair as soon as you notice any damage. In this blog post, we have highlighted a few of the signs that may indicate you need a windshield repair.
Chip or Crack is Blocking View
Many drivers think it is safe to continue driving their vehicle following a visible chip or crack to their windshield. In some cases, this may be possible depending on the size, depth, and location of the chip. However, larger chips or cracks that obstruct your view will need to be repaired. It is illegal to drive a car where the view of the driver is blocked by a crack or chip. If you notice damage to your windshield is obstructing your view, it is probably time for a windshield repair.
Inspection Renewal Is Coming Up
If you have an inspection renewal coming up, it is important to make sure your vehicle is in tip-top shape. Some car owners think that a small chip or crack will not affect their ability to pass the inspection. Sadly, even small chips and cracks usually result in a failure. To avoid this, consider seeking out windshield chip repair prior to your inspection. This will save you time, money and hassle in the long run.
Winter Damage
For most car owners in Canada, the winter can be a tough time. Not only does it take a toll on your paint and tires, but constantly scraping and clearing snow from your windshield can affect the glass over time. The combination of hail and salt and heavy snow can wreak havoc on any windshield. Once a chip or crack has formed, it can then be further exacerbated by fluctuating temperatures. If you notice any damage during the winter, it is important to seek windshield repairs right away.
White Haze Collecting on Windshield
All windshields are treated with a clear layer of plastic that helps the glass to break into small pieces in the event of a collision. This ensures that no large, dangerous chunks are produced during an accident that could kill or maim passengers. However, if you notice a white haze on your windshield, it means the plastic is beginning to separate from the glass and you may no longer be fully protected in the case of an accident.
At MRM Auto Glass, we provide comprehensive windshield repair and replacement for all vehicles. Our 24/7 mobile service brings auto glass repair right to your home, office, or the roadside. For more information on windshield chip repair, contact the MRM team today at 905-868-9399.