How to Choose Between Professional & DIY Windshield Repair
Posted in Windshield Repair, on June 16, 2021
---
A windshield crack can be frustrating as some drivers find themselves experiencing multiple cracks and chips every year. This problem often becomes worse as seasons continually change in Toronto and the temperature begins to fluctuate significantly. The immediate difference in temperature causes stress on the windshield glass and causes it to crack, which leads drivers to look for DIY window crack repair kits multiple times a year. However, these DIY kits are often temporary repairs and do not adequately fix the issues. To prevent these cracks and chips from reoccurring, you should use a professional auto glass repair service that can improve the root issue with your windshield.
If you're unsure about DIY Windshield repair, read on to learn why professional is often the better option for your auto glass needs.
Affordable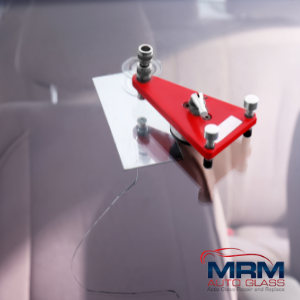 Professional glass repair services can lead to long-term savings when it comes to windshield repairs. DIY windshield repair kits often do not entirely repair the crack or chip and cause the split to return after some time. Untreated deficiencies in the windshield can lengthen and damage the entire windshield if not correctly repaired. Using a professional auto glass repair service can be much cheaper in the long run as it will fully restore the crack and prevent the need for a complete windshield replacement.
Convenience
DIY window repairs can be convenient because you can use them at home, but without the help of an experienced technician, the process can be incredibly challenging and frustrating. When you choose MRM for your auto glass repair, we will come to your home in the GTA and repair any windshield or window cracks quickly, efficiently, and seamlessly. Not only will we deliver a stress-free, high-quality solution, but you also won't have to risk driving around with a crack in your window.
Quality
Windshield cracks and chips that are not adequately repaired will return and continue to lengthen. These cracks can lead to more windshield damage and the need to do a complete windshield replacement. DIY window crack repair kits are often temporary solutions and do not sufficiently repair windshield damages. By choosing a professional service, you can ensure you receive quality service and a warranty on the repairs.
Tools and Expertise
Professional auto glass repair companies have the necessary tools and expertise to fix your windshield and prevent further damage. Windshield repairs aren't the same as some of them, which are deep enough to require a different set of tools to patch up. At MRM, we work on both domestic and foreign windshields and have a team of experienced individuals.
Speed
Professional auto glass repair services can often be much quicker than having to use a DIY kit. Depending on the damage to the windshield, most repairs can be carried out within 30 minutes, and a complete windshield replacement can be done in under 3 hours. At MRM, we provide mobile emergency service directly to your home and ensure the windshield repairs cause as minimum disruption to your schedule as possible.
It's always best to get the help of a professional to ensure you get quality results. A poorly repaired windshield is likely to crack again.