OEM or Aftermarket: Which one Should You Choose?
Posted in Windshield Replacement, on May 12, 2021
---
The best time for auto glass repair is sooner rather than later. Taking too much time to have your windshield repaired can make cracks worse or cause damage to spread and intensify. If you need auto glass replacement, MRM Auto Glass offers two options: OEM or aftermarket glass. But which is better for your vehicle? Read on to learn the differences between the two.
What Does OEM Mean?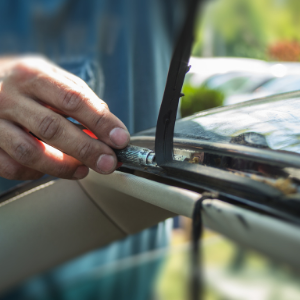 OEM is short for Original Equipment Manufacturer and refers to windshield glass or parts made by your car's manufacturer (Volkswagen, GM, etc.). Typically OEM parts are produced in limited quantities during the time the vehicle was manufactured.
What Does Aftermarket mean?
Aftermarket windshield glass is produced by a glass company other than your car's manufacturer. They create copies of the original windshield but may differ slightly in thickness, quality, or finish.
What are the Similarities and Differences Between OEM and Aftermarket?
When you need auto glass repair, you may be asked to choose between OEM or aftermarket glass. While these products can be almost identical in many ways, the most significant difference between the two is that aftermarket glass often costs a lot less. It's like buying off-brand facial tissues instead of Kleenex — the difference between the two is usually only at the register.
Which One Should You Choose?
At MRM we usually recommend that you choose OEM glass for auto glass replacement. There are a few good reasons for this recommendation:
Quality. Manufacturer reputations rest on quality, and OEM glass is an integral part of that.
Safety. Auto manufacturers make glass that supports and works with the rest of their safety features.
Finish. OEM glass restores your car to the same conditions as when it rolled off the assembly line.
Features. Some modern cars have through the glass sensors or features that improve your handling or safety and may require OEM glass to function.
But just because we recommend OEM glass most of the time, we still stock and install aftermarket glass too! When it comes to insurance, some companies require you to install OEM glass, while others will only work with aftermarket. Some of the pros of aftermarket glass include:
Meets or exceeds safety minimums
Less expensive than OEM glass
Often customizable in ways OEM glass isn't
Buying New Auto Glass
When it comes to replacing your auto glass, the best way to choose between OEM and aftermarket glass is to speak with the glass specialists at MRM Auto Glass. We're here to help you make a decision that keeps your car, safety, and budget in mind. We can walk you through the OEM and aftermarket products we carry and talk with your insurance company to find the best solution.
Our friendly and knowledgeable staff are committed to being your one-stop shop for all of your auto glass questions and concerns regarding auto glass repair.
To learn more about auto glass replacement and get your car back on the road, call us to get your free quote at 905-868-9399.