How To Stop A Windshield Crack From Spreading
Posted in Windshield Repair, on January 18, 2021
---
When a windshield cracks, it can be very scary, especially if it occurs while you are driving. A cracked windshield usually occurs due to a rock or other debris hitting the glass while driving at high speeds. No matter what caused the crack, it is important to seek windshield crack repair services as soon as possible. Auto glass repair and replacement can quickly repair your windshield to ensure you can continue safely driving. However, what happens when you cannot make it to a mechanic right away? Here are a few tricks to prevent a windshield crack from spreading while you wait for your windshield crack repair service.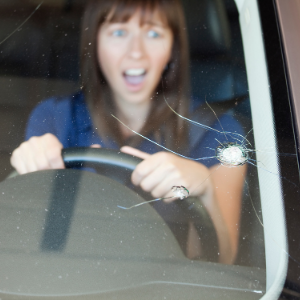 Superglue or Clear Nail Polish
If your windshield crack is small, you can cover it with a layer of superglue or clear nail polish. Although this is not a permanent solution, it can help prevent the crack from spreading while waiting for your auto glass repair and replacement. Stopping a crack from spreading can help ensure that the repair will be simple and straightforward. The glue or nail polish will prevent spreading and stop any residual glass from falling into your vehicle or line of sight.
Windshield Repair Kit
Keeping a windshield repair kit handy can make all the difference when you experience a crack or chip. This is not a permanent solution but is highly effective at preventing a crack or chip spread. This is especially useful if you need to wait for windshield crack repair and have to continue driving your vehicle in the interim.
Avoid Temperature Changes
When your windshield is cracked or chipped, the glass is compromised and more sensitive to pressure and temperature changes. Extreme cold, heat, or large temperature changes can stress the glass and further expand the crack or chip. While you wait for windshield crack repair, avoid big changes in temperature that may make the damage worse.
Schedule a Repair
Following a windshield crack or chip, the most important next step is to schedule auto glass repair or replacement. With the help of your technician, windshield crack repair will be easy and straightforward. The best way to avoid long-term damage and protect you and your passengers' safety is to get your windshield fixed as soon as possible. Once you have scheduled a repair, try to drive your vehicle as little as possible leading up to your appointment time.
For windshield crack repair in the Greater Toronto Area, look no further than MRM Auto Glass. Their expert team of technicians provides exceptional auto glass repair and replacement for vehicles in the Toronto area. The MRM Auto Glass 24/7 emergency mobile service brings windshield crack repair directly to your home, office, or roadside. To prevent the expansion of a crack or chip, it is important to book a windshield crack repair appointment as soon as you notice the damage. For more information on auto glass repair or replacement talk to a member of the MRM team today and book a windshield crack repair. Our number is 905-868-9399.