How to Respond to a Rear Windshield Crack in the Greater Toronto Area
Posted in Windshield Repair, on February 17, 2022
---
Most drivers understand that there is a constant risk of their windshield being randomly struck by objects on the road resulting in cracks and chips that obstruct visibility and inhibit safe driving. While it's less common, a rear windshield crack can cause similar problems and require auto glass repair in Markham and Richmond Hill. A smashed rear windshield leaves you without crucial back protection, and you need to replace it immediately. Whether you require replacement or windshield repair in Richmond Hill, the experts at MRM Auto Glass can help! Read on for everything you need to know about rear windshield cracks, repairs and replacement.
What Causes Rear Windshield Damage?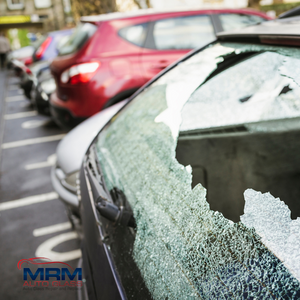 The reasons for rear windshield damage include:
Impact from road gravel or other debris: When hard objects like a rock, baseball, or road debris strike the back window, it can shatter.
Temperature fluctuations: While the rear glass is strong enough to withstand mild temperature fluctuations, it can break due to extreme temperature. Thermal stress is caused when the glass cools down or heats up too quickly.
Collisions: The rear window can break or shatter due to the sudden impact of an accident or collision.
Why Rear Auto Glass is Different Than Windshield Repair?
While the front windshield is made of laminated glass, the rear windshield is made of tempered glass. The laminated glass of the front windshield is made of two layers of glass with a vinyl layer in the middle. This makes it strong, and the vinyl layer ensures that the glass does not shatter but stays in one piece when damaged. Rear windshields are made with tempered glass reinforced with chemical or thermal treatments to make them strong. However, it can break and is designed to disintegrate or shatter into tiny pieces on impact. These small glass pieces have rounded edges to prevent injury to the occupants.
Repair Process
The repair process of the back glass is a bit different and takes more time. The shattered glass pieces need to be vacuumed and cleaned up before installing new rear windshield glass. The rear windshield also has a defrost grid and other devices that need to be safely removed and disconnected for removing the shattered glass. The repair process typically includes the following steps:
Inspecting the extent of damage & removing the damaged glass.
Disconnecting and removing the defrost grid and other devices.
Cleaning & vacuuming any glass pieces inside the car and around the edges.
Fixing a new rear windshield.
Allowing the glass adhesive to cure for the recommended time.
Connecting the defrost grid & other devices.
Checking that they are working correctly.
360-Degree Auto Glass Solutions from MRM Auto Glass
Front or rear, the windshield is vital for the safety & functioning of your vehicle. Do not delay windshield repair in Richmond Hill and Markham; contact the specialists at MRM Auto Glass! Whether you need a complete windshield replacement or quick auto glass repair in Markham, or the Greater Toronto Area, MRM technicians will have you back on the road in no time. Our convenient mobile repair service will come to you if your vehicle is unsafe to drive. Enjoy the reassurance of quality products, certified professionals, and unparalleled service with MRM Auto Glass!
Connect with us today to schedule your auto glass repair or replacement.