How to Protect Your Windshield From the Elements
Posted in Windshield Repair, on May 04, 2021
---
In the springtime, it's not uncommon for Markham, Toronto, and Vaughan area drivers to need windshield crack repairs. This is because spring weather in the GTA can be a wild ride: snow, rain, hail, sun, and heat are all possible, and this creates a serious set of hazards for your windshield glass. There could be a handful of weather related challenges that might cause you to need a windshield repair in Markham or the rest of the GTA.
Hail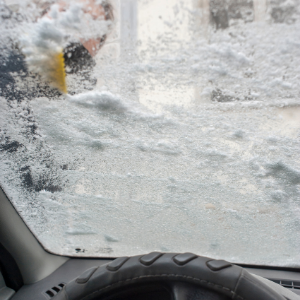 Hail is formed during thunderstorms when the wind carries rain into colder regions of the atmosphere. Raindrops freeze together and then fall when they become heavier than the air can support, and large or fast-moving hailstones can crack or chip the windshield of moving or parked vehicles.
Debris
After a long winter where the roads have been covered by snow, ice, and sand, debris can pile up on the roadways. Small stones, pieces of metal, or wood can be flung up during everyday driving to strike and batter your windshield unexpectedly.
Extreme Weather
Heavy rain, wind, and other extreme weather can blow or knock objects into your car and result in windshield damage. Strong gusts of wind can add strain to already cracked windshields worsening the existing damage.
Temperature Changes
Windshield glass is strong but can be vulnerable to extreme temperature changes in the springtime. Leaving your car sitting in the hot sun all day can cause the glass to expand, while freezing temperatures can cause it to contract. Areas with tiny cracks or chips can buckle or become larger when exposed to these extremes, and a small problem can quickly become more extensive.
Poor Maintenance
It's easy to ignore minute windshield cracks, but even the most minor chip undermines the safety of your windshield. Regular windshield maintenance, such as having MRM Auto Glass fill a crack or chip, can help reverse problems and reduce the damage that spring weather events can cause.
Three Easy Things You Can Do To Prevent Windshield Damage
Keep your distance on roads and highways to limit close-range debris damage.
Never pour warm or boiling water on icy windshields — take your time and remove as much as you can with a scraper and by warming up the interior of your car.
Park your car in a garage or a shady area on sunny days. If there's a thunderstorm brewing, choose a parking spot well away from large trees or other dangers.
Windshield Repairs in the GTA

If you suffer windshield damage this spring, bring your car in to the professionals at MRM Auto Glass for prompt and efficient repair. Cracks to your windshield can compromise your driving safety in all kinds of weather and can quickly grow into more serious structural problems — up to 30% of your car's safety is carried in the windshield.
We're always ready to assist you with windshield repair in Markham, Toronto, Vaughan and the GTA — to learn more about how windshield crack repairs are done and if your car is eligible, contact us to learn more and ask for a free quote.