How to Minimize Damage from Ice to Auto Glass
Posted in Windshield Repair, on December 17, 2021
---
Living in snow-prone areas can cause challenges that other drivers may never think of—like getting snow off your car. Moreover, winter weather can spell disaster for driving. Simple frost or ice on your windshield glass can obscure vision and make driving dangerous. Ice can also cause windshield damage that is even more hazardous and requires prompt windshield repair in Newmarket. However, most windshield damage is primarily caused by the elements which are out of your control.
But when it comes to ice on your windshield, there are a few ways to prevent it and minimize damage and auto glass repair in Newmarket.
Preventive Measures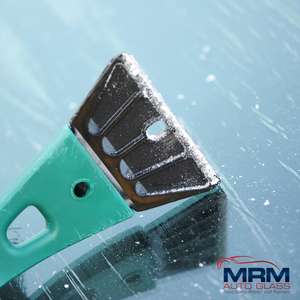 Taking steps to prevent ice formation on your windshield is far better than desperate measures to remove ice on a cold wintry morning! Here's what you can do:
Cover up: An easy way to prevent ice formations on your windshield is to cover it up. Either buy a windshield cover from any auto parts store or use a tarp, old bedsheet, or towel to cover the windshield. Make sure to secure it properly so that it doesn't blow off!
DIY Solutions: Make your own DIY solution of water and vinegar or water and rubbing alcohol to prevent ice or frost on your windshield. Mix one part water with three parts white vinegar and store in a spray bottle. Spray it on your vehicle's windshield at night to prevent ice formation. Hopefully, you'll not be battling with the ice-scraper in the morning!
How to Remove Ice
If you do get ice or frost formation on your auto glass, try these methods to remove it:
Internal Defrosting Mechanism: Using the car's internal heating or defrosting mechanism is best to de-ice. Just start the engine and set the car heater on defrost mode. Adjust the airflow so that it recirculates. If you're lucky enough to have the luxury of a heated windshield, switch it on and clear away the ice.
De-icer Spray: You can also use a commercial de-icer spray to remove the ice. These sprays typically use methanol to combat ice on the windshield. Most of them also contain antifreeze ingredients that hamper ice formation. This also reduces the probability of glass freezing.
Ice-Scrapers: You may need to use an ice-scraper if the ice is too thick for normal defrosting. Make sure you use one made of plastic that has a blunt blade. Otherwise you may end up with more windshield damage than when you started.
What Not to Do When Removing Ice
Never use hot water to remove ice on the windshield. Hot water can induce thermal shock that can crack the glass and have you searching for auto glass repair in Newmarket.
Never use a metal scraper as it can scratch the windshield and damage wiper blades.
Defrost the windshield slowly. Do not crank it on to full heat as sudden temperature changes can damage the auto glass.
Don't try to break up the ice with metal or any sharp tool. You're just asking for expensive windshield replacement or windshield repair in Newmarket!
Winter can cause frozen windshields and associated damage while increasing the likelihood of cracks and chips due to fluctuations in temperature. If you find any windshield damage while de-icing, don't delay repairs. With 25 years of industry experience, MRM Auto Glass promises quick, affordable, and reliable windshield repair and replacement.
Contact MRM to book your auto glass repair in Newmarket today!