How the Wind Affects Windshield Cracks
Posted in Windshield Repair, on August 21, 2022
---
A cracked windshield can happen to any of us and is an unexpected issue one has no control over. However, it's crucial to get windshield repair in Newmarket as even a tiny crack can compromise safety and structural integrity. While high winds do not generally damage auto glass, the debris they bring can cause you to need windshield crack repair. If your windshield already has a chip or minor crack, get auto glass repair in Newmarket, as destructive wind storms with hail & debris can wreak havoc on your windshield. Read on to learn more about how the wind affects your cracked windshield.
How The Wind Affects Your Cracked Windshield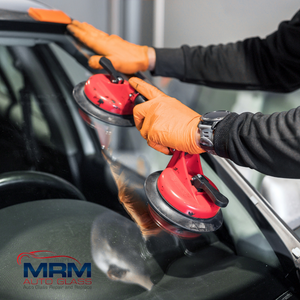 High-pressure winds can be damaging to your auto glass. Storms with such gusty high-pressure winds can be hazardous and unpredictable. Load on the windshield surface can increase exponentially with stress—this can severely impact your cracked windshield. Pressure changes from gusty winds can potentially break your auto glass or worsen existing damage. Destructive tornado-force winds can violently shake your windshield and cause chips or cracks across its surface that may require windshield repair in Newmarket. The worst damage comes from debris, dust and other particulate matter that high-force winds can slam against your windscreen. Such damage can render a cracked windshield totally irreparable.
What to Do When Trapped in a Windstorm
If you find yourself amidst a raging storm with high-intensity winds, try and pull off to the side of the road. Park in a spot that provides some protection from the storm—behind a building or a garage. Basically, any place that keeps the wind pressure and debris away from your vehicle. And possibly pay attention and keep off the road when weather forecasts of storm winds and gale are predicted.
Why Not Drive with a Cracked Windshield
Though it can be tempting to let a minor chip or crack be for a bit, it's vital to understand that ignoring it can be dangerous. Once the auto glass has been compromised by a chip or crack, it can quickly snowball into a significant defect. It is not only illegal to drive with a severely damaged windscreen, but it's also potentially hazardous to your safety and that of others on the road.
A damaged windscreen does not provide the intended level of protection. Avoid driving if the cracks/chips directly impair the vision field of the driver and seek immediate auto glass repair in Newmarket.
Does Auto Glass Need a Repair or Replacement?
A chipped or cracked windshield can be repaired. This depends on the depth, size, and location of the damage. Any windshield repairs in Newmarket should be prioritized as the structural integrity has already been impacted, and damage can spread quickly. As a thumb rule, an auto glass technician can possibly repair a chip that is under 2" long and 3/8th of an inch deep. Cracks smaller than a dollar bill may be fixed, although experts recommend windshield replacement for complete safety. Chips or cracks impairing the driver's visibility or near the edges also warrant auto glass replacement.
Flawless Windshield Repairs with MRM Auto Glass
If you have a windshield chip or crack due to a windstorm, connect with the experts at MRM Auto Glass. As the leaders in windshield replacement and auto glass repair in Newmarket, we assure you of superior services, convenient mobile repair, and competitive prices. We work directly with all major insurance companies and offer on-site service—backed by work warranties.