How Negative Temperatures Lead to Windshield Damage
Posted in Auto Glass Repair, on February 06, 2023
---
Cold weather and negative temperatures can be challenging for many reasons, and our ability to commute safely is one of the significant ones. When the weather in the greater Toronto area drops below freezing, drivers in the city find themselves susceptible to windshield damage requiring professional windshield repair. Thankfully, MRM Auto Glass, the experts in auto glass in Newmarket, are there to save the day with top-notch windshield repair. Read on to understand how negative temperatures lead to windshield damage and how to prevent it.
Glass Expansion & Contraction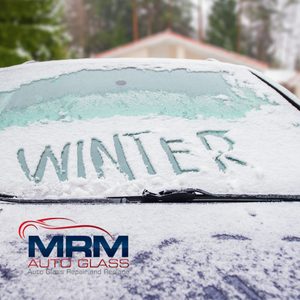 Temperature fluctuations in cold weather can cause your windshield to expand and contract. This repetitive stress induces cracks and chips in the windshield glass, making it vulnerable to further damage. Negative temperatures can cause the auto glass in Newmarket to contract and pull away from the frame edges. The glass expands as the temperature rises again, loosening the windshield or causing existing cracks & chips to spread under pressure.
This can result in extensive damage to your windscreen.
Auto Glass Defrosting
While running the defrost on high can be tempting during sub-zero temperatures–don't! Using the defrost setting to blast hot air to clear frost or ice from the windshield can crack it. The rapid temperature change can stress the glass and lead to cracks and chips. Minimize the risk of damage by turning on the defrost slowly, preferably a few minutes before starting your vehicle. This gives the glass time to adjust to the drastic change in temperature gradually.
Metal Ice Scraper
Using a metal scraper or anything sharp to remove ice from your auto glass is like inviting windshield damage. The metal can scratch the windshield and create weak spots susceptible to future distress. A plastic scraper or a special brush designed to clear ice is a safer(and saner!) option.
Salt Chip Damage
Finally, salt chips that spring up along with road debris can also harm your windshield in negative temperatures. The salt can accumulate on the windscreen to cause corrosion and weaken the glass over time. The corroded glass can easily crack or chip, leading to damage that requires windshield repair.
When Do You Need Windshield Repair?
Be proactive and repair any cracks or chips you notice in your windshield as soon as possible. Ignoring damage or procrastinating on windshield repair can cause the damage to spread and make restoration more complicated and expensive. Windshield experts at MRM Auto Glass can fill the small repairable cracks with strong resin to stop their spread. This will protect your auto glass from extreme temperature changes that are common in winter and summer. Sometimes, windscreen cracks can spread to such an extent that they may be beyond repair and require total windshield replacement.
Why Choose MRM Auto Glass in Newmarket
Windshield damage is a sad reality in extreme cold with negative temperatures. Knowing the reasons can help minimize auto glass damage, but what to do if you need windshield repair?
Trust the experience and professional expertise of MRM Auto Glass! Our team of auto glass specialists in the GTA will assess the damage and repair or replace your windshield accordingly. Whether it's a crack, chip, or other types of windscreen damage––we have you covered! Choose MRM Auto Glass in Newmarket for quick, affordable, and effective windshield solutions.