How Long Can You Go With A Crack In Your Windshield?
Posted in Windshield Repair, on February 22, 2021
---
Of all the things that can go wrong with your vehicle, windshield damage is one of the most common problems. In fact, an extremely frustrating and annoying one! A cracked windshield not only hampers the structural integrity of your car, but it can also render it unsafe to drive.
Driving around with a cracked windshield is dangerous and is even illegal in some states, including Ontario! Apart from a fine & a ticket, your vehicle could even be ordered off the road. Ideally, any cracks on your windshield should be fixed immediately by a professional windshield crack repair expert. That said, if you are wondering how long you can go with a cracked windshield before more damage sets in, here's what you should consider:
#Extent of Damage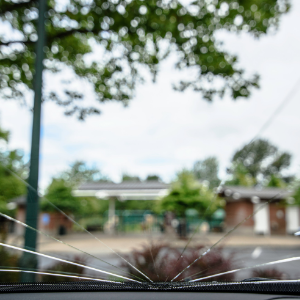 While a small chip or crack the size of a loonie can be repaired, waiting too long to get it fixed can lead to a much costlier replacement. However, large spider-web cracks should be immediately checked for auto glass repair and replacement as they can quickly spread and cause the windshield to shatter. As a thumb-rule, the longer you wait, the lesser are the chances of an optimal windshield crack repair.
#Extremes of Temperature
A crack can grow bigger with extremes of temperature. Glass expands when it's hot outside, and it contracts when cold. These temperature fluctuations can cause a minor crack in your windshield to grow in size. Contact an expert auto glass technician for windshield crack repair at the earliest to avoid this problem.
#Crack Location
A minor crack on the passenger side can wait till you find the time for a workshop visit. However, one should not drive if the crack is directly in the field of the driver's vision or obstructs the driver's view. Have a windshield crack on the driver's side? Contact a reliable windshield expert like MRM auto Glass for mobile auto glass repair and replacement service. They can come wherever you are to fix your windshield and have your ride ready for the road within a few hours!
#Vibrations
The vibrations in your car while driving, hitting a pothole and even loud music can rattle your windshield and cause any cracks to grow bigger in size. As these are almost unavoidable, it is best to get a windshield crack repaired at the earliest.
#Dust & Dirt
Driving around can cause dust & dirt to get inside a crack or chip. This can hamper the repair work as dirt can prevent the resin injected into the windshield crack from bonding properly with the glass. Taking your car for timely windshield crack repair can prevent dust & dirt build-up and ensure a flawless repair job.
The last word
The longer you wait for windshield crack repair, the more it will cost you. Get that crack fixed right away rather than pay for a complete windshield replacement later!
Save Time & Money with MRM Auto Glass!
Trust the experts at MRM for all your auto glass repair and replacement needs. With more than 30 years of experience in windshield installation & repair, we promise outstanding service, premium workmanship and a lifetime warranty on all work. We'll take care of all your insurance paperwork-from claim to billing! Call us toll-free on 1-844-868-9399 or dial 905-868-9399 for stress-free auto glass repair and replacement. We're just a call away!