How Do Temperature Fluctuations Affect Auto Glass
Posted in Auto Glass Repair, on September 13, 2023
---
Unpredictable weather and extreme temperatures are a constant companion in the GTA. But have you ever wondered how temperature fluctuations impact your auto glass? Temperature swings can leave your vehicle vulnerable to auto glass repair and windshield replacement in Newmarket. Here's what you need to know about extreme temperature impact on your car and why proactive care is crucial to keep your windshield crystal clear and safe.
How Temperature Changes Affect Auto Glass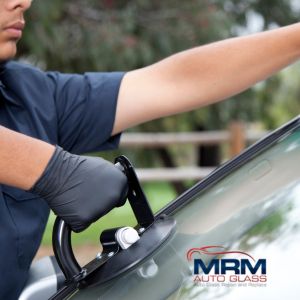 Your vehicle's windshield may seem sturdy and unyielding, but it's sensitive to temperature changes. Sudden air temperature fluctuations can wreak havoc on your auto glass.
Thermal Stress: Glass expands when exposed to heat and contracts when subjected to cold. The rapid expansion and contraction caused by fluctuating temperatures put immense stress on the glass. Over time, this can cause stress cracks and windshield chips.
Hot Weather Impact: With warm weather beckoning and more travellers on the open road, your windshield is vulnerable to cracks and chips from countless miles of highway journeys. The scorching sun intensifies the threat, causing these fissures to expand. Prompt action is paramount–seek immediate auto glass repair from a trusted repair shop like MRM Auto Glass.
Cold Weather Influence: Newmakert's winter can pose icy challenges for your auto glass. When temperatures plummet below freezing, the metal surrounding your windshield contracts and stresses the glass. Unattended cracks can spread and worsen in such cold weather. Warm your vehicle gradually and steer clear of pouring hot water on your windshield to defrost. This can exacerbate existing cracks and cause irreparable damage, forcing complete windshield replacement in Newmarket.
Weakened Glass: Prolonged exposure to extreme temperatures can weaken the structural integrity of your auto glass. It becomes more susceptible to damage from minor impacts like road debris or bumps.
Hazardous Conditions: As discussed, temperature-related damage compromises the overall safety of your vehicle. A weakened windshield is less effective at withstanding impact during collisions, increasing the risk of injury to you and your co-passengers.
Signs of Temperature Fluctuation-Related Damage
Cracks & Chips: Small cracks or chips in the glass near the edges are common indicators of temperature-related stress. These may appear insignificant initially but can quickly expand into larger, more costly problems.
Hazing or Distortion: Heat-related damage can cause the windshield to develop a hazy appearance and distort the view. This impacts driving visibility, posing a safety hazard.
Unusual Sounds: The windshield's creaking or popping sounds when driving over uneven surfaces or during temperature changes can indicate underlying auto glass issues.
Responding to Windshield Damage
Neglecting temperature-related windshield damage can cause more extensive and expensive problems. In many cases, minor damage can be repaired without needing windshield replacement. Professional auto glass repair technicians can assess the damage and determine whether it can be safely fixed. Safe repairs can save you money while preserving windshield integrity. You can also opt for convenient mobile auto glass repair services from trusted auto shops like MRM Auto Glass. Their trained experts can come to your location, saving you time and ensuring flawless repair or windshield replacement.
Safe & Crystal Clear Windshields with MRM Auto Glass
MRM Auto Glass is the trusted choice for auto glass repair & windshield replacement in Newmarket. With a commitment to quality, safety, and customer delight, you can't go wrong with MRM Auto Glass! Our trained and experienced technicians can precisely diagnose and repair auto glass damage. Top-quality materials and OEM glass ensure adherence to the highest safety & durability standards, and our doorstep mobile repair services promise convenience and prompt repair.
Don't let temperature-related damage cramp your style or safety–Call now for reliable MRM Auto Glass solutions!