How Adhesives Cause Auto Glass Repair
Posted in Auto Glass Repair, on October 14, 2023
---
When it comes to windshield replacement in Newmarket or any type of auto glass repair, most people consider stone chips and car accidents as the leading cause of damage. And while there are a number of preventable reasons drivers around Newmarket and Ontario require auto glass repair from a reliable service provider like MRM Auto Glass, adhesives on the windshield or other auto glass such as windows, and windshields can result in severe damage,
Read on to learn how adhesive and windshield stick-on accessories can result in damage, as well as tips to prevent cracks, chips, and scratches.
What Devices Are Mounted to Windshields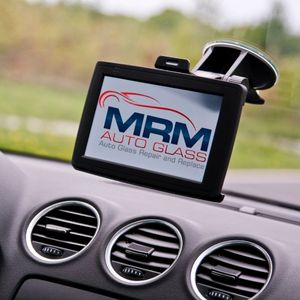 With more and more devices being designed to be used by drivers, windshield mounts are more prominent than ever. In Ontario transponders, toll passes, GPS mounts, dash cams, cell phone mounts, and more are created for windshields and auto glass. The intention is to facilitate readability or visibility of these devices while driving which makes the windshield the ideal location for them. These accessories are mounted to the windshield either using adhesive tapes or suction cups.
Do Mounted Devices Lead to Auto Glass Damage?
With modern technology most windshield and auto glass is incredibly strong. Most accessories that are meant to be mounted directly on the windshield use suction cups for easier removal. However, with many in use, there is still a chance that drivers may notice damage to their windshield from these devices and accessories. Sometimes drivers may find that they need auto glass repair, or in serious cases windshield replacement in Newmarket, if mounted accessories are removed improperly. Yanking or pulling devices can weaken structural integrity of the windshield leading to cracks, scratches, and pitting. If you notice some signs, contact MRM Auto Glass to learn about repairs that we can provide.
Suction Cup Mounts
Suction cups are a great option for auto glass devices because they are temporary and easily adjustable, often used for GPS, cell phone, and dash cam mounts. Their convenience and ease means that of the two options: suction cup and adhesive, suction cup mounts are the least likely to result in drivers calling for auto glass repair services.
Adhesive Cup Mounts
Adhesive mounts are typically used on accessories that are smaller such as toll road transponders. Being smaller than suction cup devices, adhesive usually offers a stronger attachment than alternatives, but that makes it more difficult to remove. As a permanent option, they typically won't fall without warning, but the attempt to remove them is more likely to lead to damage. When simple pulling and tugging won't remove small adhesive mounted windshield devices, some people revert to scraping or knocking. In some cases, auto glass damage and windshield replacement in Newmarket can be a common consequence of adhesive removal.
Adhesives and Auto Glass Repair Services
To mitigate the need for auto glass repair, it's important to take care when dealing with these glass adhesives to ensure that you avoid the need for auto glass repair in near future. Follow instructions closely and be cautious and deliberate with your windshield devices and accessories. If you've chipped, scratched, or damaged your auto glass, contact MRM Auto Glass.
Our team of experienced professionals will use high-quality materials and skill to provide long-lasting results.