Common Causes Behind Broken Windshields
Posted in Windshield Repair, on October 09, 2020
---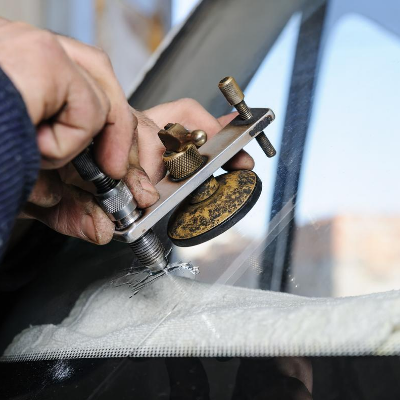 Your windshield is one of the most important features of your vehicle. It helps to keep you and your family safe while driving and protect from flying debris. However, when your windshield is compromised, damaged, or broken, your safety is no longer protected. That is why it is important to seek windshield chip repair as soon as you notice any damage. So, how does a windshield break? In this post we have outlined several of the common ways a windshield can be damaged or broken and require windshield repair.
Car Accident
Although many people imagine shattered glass and a completely destroyed windshield following a car accident, even minor collisions can result in windshield damage. Head-on collisions and other more severe accidents may require a complete windshield replacement. However, minor collisions can result in a crack or chip that can be dangerous if overlooked. Driving with a damaged windshield can expand cracks and chips and prevent you and your family from being fully protected.
Extreme Changes in Weather
Glass, like other materials, expands in the warmth and contracts in the cold. Usually, this is not an issue, especially in areas with mild, predictable weather. However, extreme temperatures over a long period of time can affect the integrity of your windshield. This is especially true if you live in an area that can rapidly fluctuate between extreme temperatures. If you notice a rapid change in weather, it is important to check that your windshield is still intact and crack-free.
Incorrect Installation
If you have had a windshield replacement and it is not properly installed, the new glass will vibrate as you drive your vehicle. This can result in a crack in the glass that requires windshield repair.
Low-Quality Glass
Poor quality glass is more likely to have manufacturing defects than high quality windshields. Although this may not be noticeable right away, over time these defects can expand and grow into more serious cracks and chips that require repairs. This is why we always recommend requesting the best quality glass for your windshield repair.
Pressure Changes
Extreme pressure changes can be caused by debris like rocks and sticks striking your windshield at high speed. Although small rocks, pebbles, and debris would not normally damage the strong glass, at such a high speed they can cause considerable damage. Usually you will hear an audible chip or bang while driving before you notice a growing chip or crack.
At MRM Auto Glass, we provide windshield crack repair and general windshield repair services to the Greater Toronto Area. Our mobile windshield repair service brings our expert technicians to you. Whether you need your windshield repaired or replaced on the road, or at home, our mobile service makes it easier than ever to repair cracks, chips, or other damage. To protect you and your family it is important to repair windshield damage as soon as possible. For more information on any of MRM's services, or to book an appointment today, contact our team at 905-868-9399.