All the Types of Auto Glass Repair You Might Need In Richmond Hill
Posted in Windshield Repair, on August 23, 2021
---
There are wide range of incidents that can lead you to require auto glass repair in Richmond Hill: road conditions, weather, or freak accidents. No matter what you do to prevent auto glass repair, sometimes it's inevitable. Depending on the damage, you may need more than just a windshield repair or replacement. Everything from passenger windows, rearview windows, or even your sunroof are susceptible to unexpected damage.
At MRM Auto Glass, our experienced team works with all types of auto glass — we handle more than just windshield replacement in Richmond Hill.
Auto Glass Damage From Debris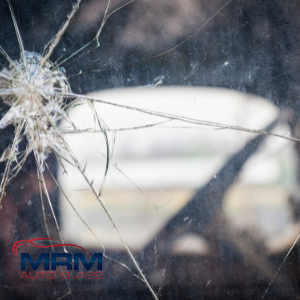 Rock chips, debris, and gravel roads can cause damage to your auto glass. Loose pieces of stone can easily kick up from cars in front of you and hit your windshield or other auto glass at any point and time, especially if you're driving within a construction zone. Even though a small rock chip in your windshield may seem minor, it can quickly grow into a crack, reducing the safety and structural integrity of your windshield. To avoid any risks while on a gravel road or in a construction zone, it's best to keep a safe distance from the cars in front of you and drive slowly.
Auto Glass Damage From Car Accidents
Car accidents can seriously damage auto glass. Even a minor collision can cause a chip in your windshield or rearview mirror, leading to cracks. The chances of a crack forming in your windshield after an accident are high. If this happens, contact MRM, and we can come to you with our mobile service for your auto glass repair in Richmond Hill.
Auto Glass Damage From Inclement Weather
Without a doubt, sudden weather changes can lead to serious damage to your auto glass. The severity of summertime storms can be hard to track and definitely hard to avoid. Although hail storms and high winds are common during the summer, you never know when they're going to hit. These storms can cause large pieces of ice to hit your windshield, posing a significant risk to the integrity of your auto glass and the safety of your car. Not to mention, high winds can cause a variety of things to land on your vehicle — tree branches, debris, power lines — causing your windshield to chip or even crack. Driving in extreme weather conditions is never safe for you or your car.
Auto Glass Damage From Auto Glass Installation Errors
Improper installation can even lead to auto glass damage; if a windshield isn't installed correctly in the first place, it could cause structural vulnerabilities, leading you to need windshield replacement in Richmond Hill. Misaligned and inferior repair products, a lack of proper tools, knowledge, expertise, or rushing can all lead to a poor auto glass installation which will often result in repeat damage. At MRM our team of certified technicians are focused on using high quality products to always provide the best results.
Windshield and Auto Glass Repair Safety Concerns
Safety on the road is of the utmost importance, so it's critical to get your auto glass fixed as soon as possible. If you have a cracked windshield, rearview mirror, or passenger window, it significantly reduces visibility and increases the risk of an accident. If you can't make it to us, we can come to you with our mobile service.
Contact MRM for all your auto glass repair needs.