Are You Accidentally Harming Your Auto Glass?
Posted in Windshield Repair, on April 07, 2022
---
More often than not, Windshield damage is unpredictable and out of your control. The usual suspects: rocks, road debris, or collisions, are the most frequent reasons drivers require auto glass repair in Newmarket. However, some other unusual causes that may result in damage to your windshield for which you should be keeping an eye out.
Read on to learn how accidental mistakes can harm your auto glass.
Unsafe Cleaning Methods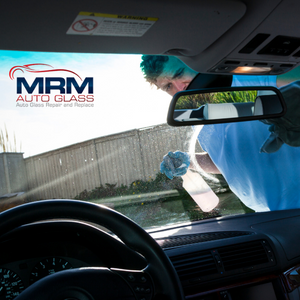 Careless and unsafe cleaning tactics can damage your auto glass. Using abrasive and harsh cleaning products or tools can leave scratches, cracks, or pits in your windshield. Make sure you only use a designated auto glass cleaning solution and a soft, microfiber cloth/paper towels to clean your auto glass. Never try to scratch off stickers from the windshield using sharp tools—it may leave deep scratches or cracks that may need auto glass replacement or windshield repair in Newmarket.
Parking Under a Tree
While you may think parking under a tree can offer shade and protection from snow or rain, it may not always be safe. A branch may break and fall on your car, shattering the windshield or rear glass. Severe storms may cause huge branches or trees to fall onto your vehicle, smashing the body and auto glass. Lastly, bird droppings from the tree can etch into the windshield glass. Without proper cleaning methods, you may end up scratching your auto glass.
Not Replacing Wiper Blades
Worn-out wiper blades are often the biggest culprits of wiper-related windshield damage. The rubber edging on the wiper blades provides a soft cushion that prevents the wipers blades from damaging the windshield. So even though the wipers can wipe off water from the glass, the rubber cushion helps preserve the auto glass. Worn-out rubber edging means that your wiper blades do not have protective cushioning. These faulty wipers can easily damage and scratch your windshield. Replace worn wiper blades in time to prevent them from leaving behind cracks and chips that can require windshield repair in Newmarket.
Subjecting Your Auto Glass to Extreme Temperature Fluctuations
Though your auto glass can withstand temperature extremes, sudden fluctuations or exposure to drastic temperature changes can damage it. Cranking up the heater or defroster to high heat can stress and crack the auto glass if it's freezing outside. Similarly, exposing a scorching windshield to cold air from the AC can harm the car's glass. Always adjust the heating or cooling gradually in such extreme situations.
Not Keeping Adequate Driving Distance
Other vehicles' tyres can propel road debris onto your car if you don't maintain adequate driving distance and follow other cars too closely. The flying road debris and pebbles can strike your auto glass and damage it. Follow the 5-sec rule and leave about 5 seconds driving distance between you and the car in front of you. Also, avoid driving behind construction vehicles as they may be carrying rocks, concrete, and other debris that could fall off.
Auto Glass Repair or Replacement at MRM
If you're reading this blog because you have a damaged windshield, act fast and schedule an auto glass repair in Newmarket today! If the damage is substantial, our certified technicians can expertly replace your auto-glass with OEM glass and have you back on the road in a jiffy! With 25 yrs experience in quality auto glass repair & replacement, you know you're safe with MRM Auto Glass.
Contact us for your auto glass repair in Newmarket and the GTA today.