5 Steps to Prep Your Windshield for Winter
Posted in Windshield Repair, on November 04, 2021
---
Winter months often spell trouble for your windshield with the assault of snow, ice, salt and extreme temperatures. Cold temperature fluctuations can naturally stress auto glass that is sensitive to temperature. As glass tends to contract in cold temperature and expands in the heat, extreme temperature fluctuations can harm your auto glass. This means a chip in the windshield is worse in winter conditions, and one should never ignore it. Fast windshield chip repair is a smart move, and prepping your windshield before winter is smarter!
Here's how you can winterize and prep your windshield for winter in 5 steps:
Check The Defroster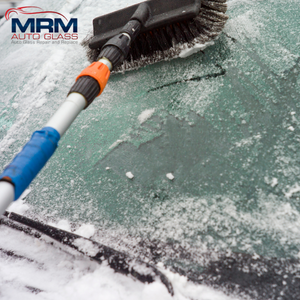 Using a defroster is probably the safest way to de-ice your windshield. Make sure to gradually warm up your vehicle(don't crank up the heat!) to gently melt the ice and frost on the windshield. However, if you have not used the defroster in a while, check that it is working correctly.
Double Check or Replace Wipers
Check your windshield wipers for cracks and other damage well in advance. The wipers should be intact and working smoothly. The wiper's rubber shouldn't be dry or hard or leave behind any streaks. Damaged wipers and winter ice are a terrible combination, often leading to scratches and chips in the windshield. It is best to seek professional help for windshield chip repair at the earliest to avoid expensive replacement costs in future. If you notice loud squeaks, loose-fitting rubber, or cracks, it's probably time to replace your wipers. You could also opt for winter wiper blades, specially crafted wiper blades encased in a rubber boot. This prevents ice or snow from accumulating inside the rubber squeegee's support arms.
Buy De-Icer Winter Windshield Fluid
The regular fluid that you use in summer and fall tends to freeze on the windshield in winter. Before the first snowfall, make sure to switch to de-icing winter windshield fluid. This specially formulated windshield washer fluid has antifreeze that keeps it from freezing, even in sub-zero temperatures. What's more, it also helps to loosen or de-ice the snow and ice from your windshield. This also prevents scratches and windshield chips that can occur from scraping ice off your windshield.
Invest in a Windshield Cover
If you need to park your vehicle outside, investing in a windshield cover can go a long way in protecting your windshield glass. The cover acts as a barrier and protects the glass from ice formation on the windshield. This will save time in the morning and reduce the hassle of defrosting and scraping frozen snow and ice that can cause windshield damage.
Keep A Plastic Scraper Handy
Though we do not recommend scraping ice off the windshield, sometimes it can be a necessity. If you have no option but to use an ice scraper, make sure you use a plastic one. Never use a metal scraper, knife or any other abrasive material to scrape off the ice from your windshield. This can cause scratches, cracks or chips in the windshield.
Preparing your windshield for winter can help you avoid stress and delays caused by an icy windshield. However, if you do notice an unfortunate crack or chip in the windshield, don't delay professional windshield chip repair from a trustworthy auto glass company like MRM Auto Glass. Windshield repair and replacement are a breeze with MRM mobile repair service! We'll come to you, wherever you are, for quick, reliable and flawless windshield repair.
Contact the MRM team and get started on professional and affordable windshield repair & replacement today!