4 Types of Windshield Damage to Watch Out For
Posted in Windshield Repair, on January 14, 2022
---
When on the road, your windshield is under constant threat of damage. It could be debris from the roads, the impact of collisions, or other such factors. The type of damage inflicted often depends on the point and severity of impact. For example, debris hitting the center of the windshield will likely cause bulls-eye cracks, while a floater crack usually starts from the edge.
As a driver, it is wise to familiarize yourself with the different types of windshield damage to be prepared for windshield repair and auto glass replacement in Richmond Hill.
In this blog, the professionals at MRM focus on four types of windshield repair you can't afford to ignore:
Cracks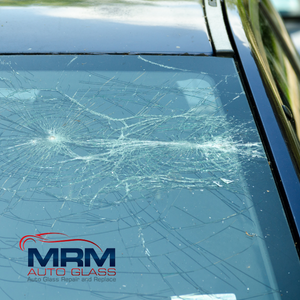 A crack is the most common type of windshield damage. It looks like a line on the windshield that may be a small wavy line or a long crack with several branching lines. Cracks are caused by impact damage from debris, pressure changes, extreme temperature fluctuations, or improper windshield installation. This type of damage should never be overlooked as it can spread to create more extensive issues requiring auto glass replacement or windshield repair in Richmond Hill. On the whole, cracks less than six inches long can possibly be repaired. However, it is not feasible to repair longer cracks or cracks on the windshield edge. Such damages can compromise windshield integrity and require complete auto glass replacement in Richmond Hill.
Chip
Sometimes, a small rock or other such debris hits the windshield, causing a tiny piece of glass to 'flake off' or come off it. This type of damage is called a chip. If the damage is restricted to the outer layer of the windshield, and the chip is less than an inch without any cracks around it, it can be filled in by an auto glass professional.
Smashed or Shattered Windshield
Collisions, an extreme impact, or ignored cracks can cause your windshield to shatter. Thankfully, shattered windshield glass still holds together and doesn't fall into your vehicle due to the lamination process. However, a broken or smashed windshield is hazardous, and you should replace it immediately. Never attempt to drive with such type of windshield damage. Call MRM's mobile service for auto glass replacement in Richmond Hill if you have multiple large cracks or a shattered windshield. This convenient mobile service ensures that you don't have to risk driving around with a shattered windshield. An expert professional will come to you to replace the windshield wherever you are!
Bulls-eye
Another common casualty in windshields is a bulls-eye. As the name suggests, it is in a bulls-eye or a dartboard pattern. Such a break has a specific point of impact and multiple circular cracks around it. Bullseye breaks in the driving field or larger than an inch cannot be repaired. Such damage usually means complete windshield replacement as there are too many cracks and lines to fill in.
The Final Word: Windshield Repair Near Richmond Hill
Driving around with windshield damage is dangerous both for yourself and others. If you need auto glass replacement or windshield repair in Richmond Hill, choose a reputable auto body shop like MRM. We offer prompt, convenient, and professional windshield repair & replacement at affordable prices. Our trained experts will inspect the damage and suggest whether it can be repaired safely or requires total replacement. Trust the pros at MRM for all your auto body needs!
Call or contact us online to fix a windshield repair or replacement service in Richmond Hill today!